Few would venture to assert the precise moment at which Scotch Whisky was first distilled. The exact origins of distilling itself are obscure, and it is unclear precisely when the techniques first reached Britain's shores. What is certain is that the Ancient Celts practised the art of distilling, and over the years, the Scots have perfected the art, using elements so generously provided for them by nature. The earliest documented record of distilling in Scotland occurs as long ago as 1494, when an entry in the Exchequer Rolls listed "Eight bolls of malt to Friar John Cor wherewith to make aqua vitae". This was sufficient to produce almost 1500 bottles, and it becomes clear that distilling was already a well-established practice. The primitive equipment used at the time and the lack of scientific expertise means the spirit produced in those days was probably potent, and occasionally even harmful. However, distillation methods soon improved, and in the 16th and 17th centuries considerable advances were made.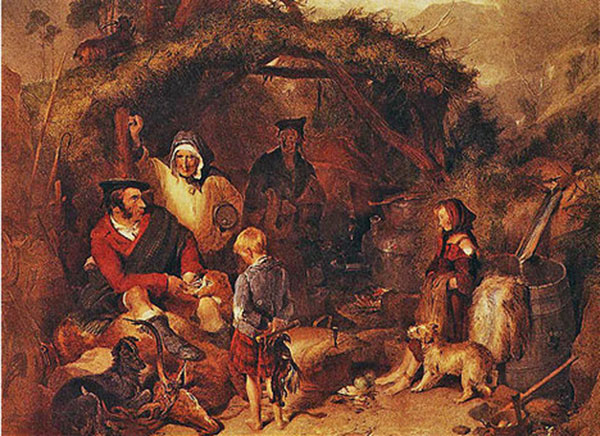 Initially whisky was lauded for its medicinal qualities, being prescribed for the preservation of health, the prolongation of life, and for the relief of colic, palsy and even smallpox. It became an intrinsic part of Scottish life - a reviver and stimulant during the long, cold winters, and a feature of social life, a welcome to be offered to guests upon arrival at their destinations. This increasing popularity eventually attracted the attention of the Scottish parliament, which introduced the first taxes on malt and the end product in the latter part of the 17th century. Ever increasing rates of taxation were applied following The Act of Union with England in 1707, when England set out to tame the rebellious clans of Scotland. The distillers were driven underground.The dissolution of the monasteries contributed to this since many of the monks, driven from their sanctuaries, had no choice but to put their skills to use. The knowledge of distilling then quickly spread to others.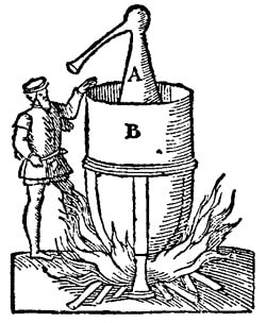 A long and often bloody battle arose between the excisemen, or 'gaugers' as they were known, and the illicit distillers, for whom the excise laws were alien in both their language and their inhibiting intent. Smuggling became standard practice for some 150 years and there was no moral stigma attached to it. Ministers of the Kirk made storage space available under the pulpit, and the illicit spirit was, on occasion, transported by coffin - in fact any effective means was used to escape the watchful eyes of the excisemen.
Clandestine stills (such as the primitive one illustrated at left) were cleverly organised and hidden in nooks and crannies of the heather-clad hills, and smugglers organised signalling systems from one hilltop to another whenever excise officers were seen to arrive in the vicinity. By the 1820s, despite the fact that as many as 14,000 illicit stills were being confiscated every year, more than half the whisky consumed in Scotland was being swallowed painlessly and with pleasure, without contributing a penny in duty.
This flouting of the law eventually prompted the Duke of Gordon, on whose extensive acres some of the finest illicit whisky in Scotland was being produced, to propose in the House of Lords that the Government should make it profitable to produce whisky legally.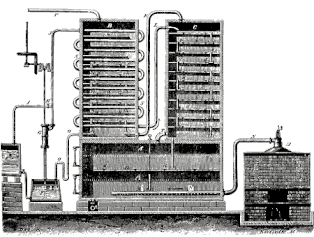 In 1823 the Excise Act was passed, which sanctioned the distilling of whisky in return for a licence fee of £10, and a set payment per gallon of proof spirit. Smuggling died out almost completely over the next ten years and, in fact, a great many of the present day distilleries stand on sites used by smugglers of old. The Excise Act laid the foundations for the Scotch Whisky industry as we know it today. However, two further developments put Scotch Whisky on firmly on the world map.
Until now, we have been talking about what we now know as Malt Whisky. But, in 1831 Aeneas Coffey invented the Coffey or Patent Still (below) which enabled a continuous process of distillation to take place. This led to the production of Grain Whisky, a different, less intense spirit than the Malt Whisky produced in the distinctive copper pot stills. The lighter flavoured Grain Whisky, when blended with the more fiery malts, extended the appeal of Scotch Whisky to a considerably wider market.
Since then Scotch Whisky, in particular blended whisky, has gone from strength to strength. It has survived US prohibition, wars and revolutions, economic depressions and recessions, to maintain its position today as the premier international spirit of choice, extending its reach to more than 200 countries throughout the world - not to mention that it's also Scotland's biggest indigenous industry supporting many local communities.
​8th Century BCFirst Evidence of distilling in the Far East
4th Century BCGreeks know of distilling
6th Century ADFirst mention of distilling in Britain
1494 First record of distilling in Scotland. James IV on throne in Scotland. Henry VII on throne in England
1513 Battle of Flodden
1539-1550 Dissolution of Monasteries, spread of distilling as a trade
1558 Queen Elizabeth I on throne in England
1560 Mary Queen of Scots returns to Scotland from France
1567 Mary Queen of Scots abdicates and flees to England and Imprisonment
1579 Temporary ban on distilling, except by noblemen, because of a bad harvest
1588 Spanish Armada
1603 Union of Crowns-James VI of Scotland became James I of Britain
1636 Charles I granted charter to the "Worshipful Company of Distillers"
1644 First excise duty imposed -2/8 per Scots pint
1660 Charles II restored to throne - excise duty reduced
1666 Great Fire of London
1689 William of Orange proclaimed King after Revolution. Ferintosh Distillery burned by Jacobites. Battle of Killiecrankie
1725 Malt tax leads to riots in Glasgow. Scotland and Ireland develop reputations for their quality whiskies
1726 General Wade started road building programme to open up the highlands so that troops could control the region more easily
1736 Porteous riots in Edinburgh
1747 Repression in Highlands imposed by Duke of Cumberland
​​1760 Start of "Highland Clearances"
1775 Dr Johnson toured Highlands with James Boswell
1776 American Declaration of Independence from Britain
1785-1803 Series of huge increases in Excise Duty led to bankruptcies among licensed distillers and a big increase in the amount of smuggled whisky which was often of superior quality because of the short cuts taken by the licensed distillers to try and keep costs down
1788 Roberts Burns became an Exciseman.
1790 Forth and Clyde Canal opened. All goods still had to be transported by horse drawn cart on poor roads. There were no railways and the internal combustion engine had not been invented.
1793-1819 War with France; shortage of brandy made people turn to whisky
1791 In America the Act of 1791 (popularly called the "Whiskey Tax") enacted a tax on both publicly and privately distilled whiskey.
1793 The 'Whiskey Rebellion' of Pennslyvania, America during which government troops were used to make arrests of a handful of distillery leaders who were refusing to pay taxes on their products.
1802 The 'Whiskey Tax' was repealed by Thomas Jefferson in America who called it 'infernal,' and 'hostile to the genius of a free people'.
1822 George IV visited Edinburgh and is reputed to have asked for Glenlivet whisky which could only have been illicit; widespread acceptance of whisky smuggling; Union Canal opened, linking Edinburgh to the Forth and Clyde Canal.
1822 New Whisky Act encouraged the setting up of licensed distilleries at reasonable cost but under close supervision
Early 19th CenturyDevelopment of the continuous still makes the process of alcohol distillation cheaper and easier to control.
1941 The SS Politician bound for America with a cargo of whisky founders off North West Scotland. Her "liberation" provides the natives of war rationed Eriskay with a welcome tonic.
Present - Scotch Whisky is Scotland's biggest indigenous industry supporting many local communities.
Regions & Distilleries
Single Malt Whiskies are divided into groups according to the geographical location of the distilleries in which they are made. Each group has its own characteristics, ranging from the lighter Lowland Malt Whiskies to those distilled on the island of Islay which are generally regarded as the heaviest Malt whiskies. The production of Grain Whisky is not so influenced by geographical factors and it can be distilled anywhere in Scotland, though the majority are produced in central Scotland.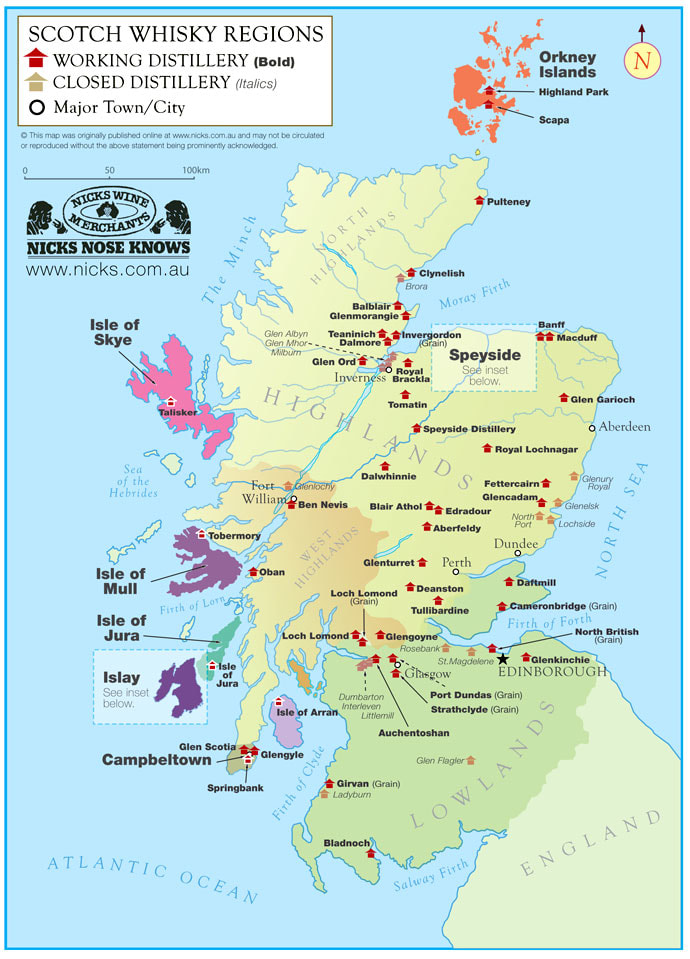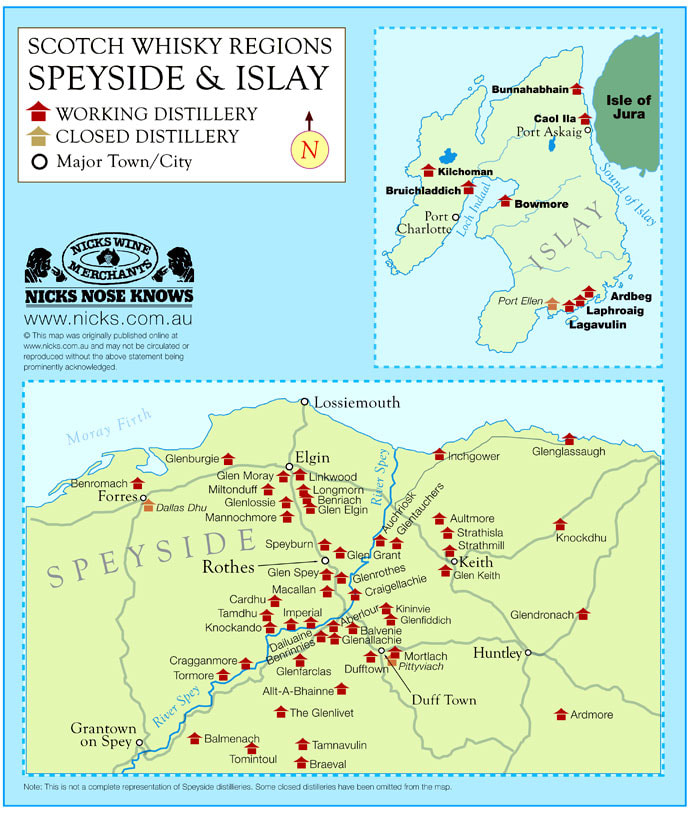 1. Lowland Malt Whiskies Lowland Malt Whiskies are made south of an imaginary line drawn from Dundee in the east to Greenock in the west. Relatively few in number, and diminishing even further in recent years, the Lowland Malts do not match the robust Highland Malts in their force and flavour, tending to have a grassy softness without the heatheriness, coastal seaweed and brine. Classic examples of Lowland Malt you can buy online are: 
Glenkinchie 10 Year Old Single Malt Scotch Whisky      
Rosebank 12 Year Old Single Malt Scotch Whisky

 2. Highland Malt Whiskies Highland Malt Whiskies are made north of the imaginary line drawn from Dundee in the east to Greenock in the west. This is by far the biggest of the regions and incorporates within it large variations in character and flavour between different distillers. The western part of the Highlands has a small number of scattered distilleries with noticeable variations to their character due to differences in coastal exposure and altitude. If they are to be characterised together they share a firm, dry character with slight peatiness and saltiness. The northern area of the Highlands tends to produces whiskies of a more spicy character. The Eastern area, which is more sheltered from the coastal winds, and into the Midlands, produce whiskies of a more fruity character. Distinctive examples of Highland Malts you can buy online include: 
Dalwhinnie 15 Year Old Single Malt Scotch Whisky
Glenmorangie Original Single Malt Scotch Whisky     

 3. Speyside Malt Whiskies From the valley of the River Spey. Although these whiskies come from within the area designated as Highland Malt Whiskies, the concentration of distilleries and the specific climatic conditions produce a whisky of an identifiable character and require a separate classification. The region has unique topography of granite mountains flowing down into the heathery moorlands and valley that is the watershed of a system of rivers. The whiskies are noted for their elegance, exhibiting flowery, heathery-honey notes and a sometimes restrained, fragrant peatiness. Excellent examples of Speyside Malts you can buy online include: 
Macallan 12 Year Old Single Malt Scotch Whisky
Aberlour 10 Year Old Single Malt Scotch Whisky
Balvenie 10 Year Old Single Malt Scotch Whisky  

 4. Islay Malt Whiskies From the island of Islay, this region is renowned for its medicinal peat smoke and maritime flavours, which are potent expressions of the local peat and exposed sea-side conditions. The whiskies are the heaviest of all malts, with a peat driven strength and firmness and complexity. Classic Islay Malts you can buy online include: 
Bowmore 12 Year Old Single Malt Scotch Whisky
Ardbeg 10 Year Old Single Malt Scotch Whisky    
 
Other regions... Other areas of Scotland which are generally accepted as regions in their own right include: Campbeltown, in the south west which produces a whisky somewhere in between the Islay and Speyside style, incorporating characteristic flavours from both districts. Campbeltown is situated on the mull of Kintyre some 240 km from Glasgow, south of Islay. Due to the exposed, coastal location of the town, Campbeltown whiskies have their own distinct character defined particularly by an oily, briny quality. There are only three distilleries in the region with one of the highlights being Springbank. 

Isle of Skye. A spectacularly beautiful island of wild moorlands and dramatic mountain peaks known as the Cuillins. Although only one distillery produces malt whisky on the island, it must rate as a classic malt expression and a must try. The whisky is Talisker. The island also produces a world famous whisky liqueur, both are available online.  
Talisker 10 Year Old Single Malt Scotch Whisky
Drambuie Liqueur
​
 Orkney Islands. The extreme northern archipelago of mostly uninhabited islands around Orkney is in every sense isolated. It is not known when the first distillery was established in Orkney, but there were almost certainly local producers by the middle of the eighteenth century. Above Orkney's capital, Kirkwall, is a rise with fine views out to the northern isles traditionally known as the 'High Park'. It is here that Highland Park distillery was said to have been founded in 1795. The distillery remains one of the legends of the whisky world. There are several expressions available with the 18 year old being the standout. 
Highland Park 12 Year Old Single Malt Scotch Whisky
Highland Park 18 Year Old Single Malt Scotch Whisky
Highland Park 25 Year Old Single Malt Scotch Whisky

 Other Islands also producing excellent whiskies include the Isle of Mull, Isle of Arran and Isle of Jura.
Making Scotch Whisky
THE RAW MATERIALS 
Scotch Whisky is made from only three ingredients, BARLEY, WATER and YEAST. All of these ingredients are used in their purest, unadulterated, natural form. However, two of the most important flavouring influences are OAK CASKS that are used for maturation of the new spirit, and PEAT which is (traditionally) used to fire the kilns that dry the barley, where it also imparts distinctive flavours. We'll consider each of these materials below.
Barley is a cereal crop of the genus Horndeum, a grass-type crop which yields starchy seeds rich in carbohydrates and suitable for food. It is arguably, the easiest of all cereals to grow, hence its popularity from the earliest times and thankfully for the Scots, varieties which thrive in the cold and wet have been cultivated for thousands of years. Subsequent developments in farming have led to new varieties and strains of barley such as Puffin, Pipkin, Camargue, Prisma and Golden Promise, which give higher yields in the field, tougher and shorter straw for better harvesting, improved malting capabilities and subsequently higher yields in the distillery. More importantly, barley is the reason why malt whisky tends to taste 'better' than other kinds of whisky: quite simply, it contributes more flavour than other cereals. If you've ever tasted a grain whisky (made mainly from maize or some other grain like wheat), you'll have noticed they're much lighter flavours.  As to whether the type of barley used effects whisky (as it does in beer production), there is little agreement within the whisky industry at present though Macallan, who almost exclusively use Golden Promise barley to make their single malts, have long believed it contributes to a superior product. 
It's been said that while brewing beer requires around ten litres of water for every litre of ale, to get the same volume of whisky requires closer to 100 litres of water. Not surprisingly, distilleries usually have their own water supplies, often a loch or spring to which they own exclusive rights. The available water often dictates the siting of a distillery at the outset, and it's common for all distilleries to claim that their water is 'the best in the whole of Scotland'. It's certainly true that Highland water is very pure as there is no heavy industry or intensive farming to contaminate so it's usually used at the distillery untreated save for basic filtering to remove foreign matter. Water is involved in every stage of the production process: To steep the barley prior to malting and for mashing the grist in the mash tun; to cool the condensers (or worm tubs) and finally, if desired, to reduce the finished product to a standard alcohol strength prior to bottling.
Yeast is a fungus or mould, a single-cell organism containing enzymes, biochemical catalysts which cause certain chemical reactions to take place. The obvious reaction which  interests brewers and distillers is that which converts sugars into alcohol. Yeast is usually inactive in its stored state. In distilling, it is activated by the temperature of the wort in the washback. The yeast multiplies at a phenomenal rate during the fermentation, feeding on the sugars in the wort, and it is eventually killed by the very alcohol it produces. Distillers commonly use two types of yeast, Brewer's Yeast which is produced as a by-product in the brewing industry with a comparatively short shelf-life and Cultured Yeast which is grown on suitable nutrients under laboratory conditions with a far higher viability. The second important requirement of yeast is its contribution to flavour which, as in wine production, tends to be strain dependent. 
If you love peaty whiskies but don't quite understand why they taste like they do, it's because of peat, or more precisely, peat smoke, which when burnt releases chemicals called phenols. These phenols are absorbed by the malted barley during the drying process in a kiln. The level of phenols is measured in ''PPM' (parts per million) and controlled by the length of time that the barley is exposed to the smoke, the amount of smoke produced and the type of peat used.
Even if 'bogs' are not your thing, peat is actually far more fascinating than first impressions might suggest. It is a relic of the Carboniferous period some 300 million years ago when much of what is now Britain was swampland. As trees, roots, ferns, grasses, animals and even people died or fell into the swamps they were subsumed into the stagnant water and partially decomposed, but did not rot away entirely. Instead an organic fuel formed by their decomposition. Peat is black because of its rich carbon content (the CO2 is not released into the atmosphere as normally takes place in decomposition around oxygen). Yet compared to wood, peat is relatively inefficient to burn. Without a proper furnace, it tends to smoke rather than create much heat.
For a long time a lack of alternative fuel forced 'Highlanders' to burn peat. Coal was simply too expensive for most and there were few trees. The situation began to change around the turn of the 1960's, with the help of technological progress in large industrial scale maltings. It then became possible to produce vast quantities of malted barley without peat. Speyside and Lowland distilleries were amongst the first to change to coke (a high carbon form of coal) as a combustible, as new railway networks to transport the fuel encouraged the transition. Remoter regions like Islay persisted with peat.
Today, there's no question that peat-smoke derived flavours in whiskies are increasingly desirable. Consequently, peat is now used not only on Islay by the likes of Ardbeg, but also on Orkney, in the Highlands, Campbeltown, as well as in Speyside. Peat is usually extracted close to the distillers or maltsters. Distilleries prefer the top part of the bog, because the upper crust of peat found there tends to be 'richer', more rooty and generate more smoke and impart more flavour.
At some stage of his or her drinking career, every hairy chested peat freak has probably wondered "Why don't peaty whiskies all have the same kind of 'peatiness'." Instead, we find that peat comes in a remarkable array of sensory guises, and also contributes an almost oily mouth feel, as well as added depth, richness and sweetness. Its flavours are expressed differently in whiskies from different distilleries and range from notes reminiscent of lanolin, wet wool, iodine, seaweed, bacon, tobacco smoke, engine oil, tar, manure and wet earth.
As much of Scotland is (in parts) covered by a meter-thick layer of peat, it's been supposed that different types of organic matter in the different regions, have created different types of peat which impart, in turn, different flavours to the finished whisky. For example, historically there have been few trees on the Orkney islands so there are no tree roots in the peat, making it lighter and quicker to burn. Whiskies from this area, like Highland Park, tend to have a more lightly smoked flavour than Islay malts. 
Is this an argument for 'peat' and 'terroir'?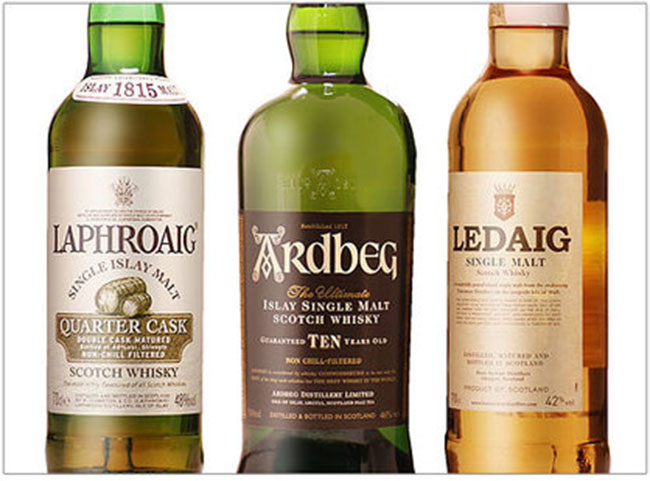 Patrick Brossard of http://www.whisky-news.com recently reported on a study that approaches this question. In 2009, B.M. Harrison and F.G. Priest published an article on the composition of peat in the production of Scotch Whisky and the influence of its geographical source, extraction depth and burning temperature: "Peat samples from four locations (Islay, Orkney, St. Fergus (Aberdenshire), and Tomintoul (Speyside) were analyzed using Curie point pyrolysis in combination with gas chromatography-mass spectrometry". 
[As in the simpler process of distillation where small molecules fly out first, followed by the big ones (so alcohol is separated from water), with gas chromatography a sample is heated to evaporation in order to release volatile compounds. Since all the molecules of a given structure will behave more or less identically, they exit the machine collectively and at the same time. As each 'puff' of molecules is released, a computer generated graph peaks corresponding to the most abundant chemical compounds. The higher the peak, the greater the number of molecules of acertain type are present].
"In total, out of the 106 products identified, 92 compounds were having a significant effect on the separation of the four geographical locations. The compounds were broadly split into the following classes: phenolic compounds, carbohydrate derivatives ("sugars"), aromatic compounds, and nitrogen-containing compounds".
"The ratio of phenol derivatives (carbohydrate derivatives to guaiacols, syringols, and phenols) was the major discriminator between the samples of the different geographical regions, explaining more than 60% of the variance. St. Fergus and Islay samples were characterized by high percentages of guaiacols (aromas described as aromatic, phenolic, burnt, woody, bacon, savoury, smoky, and medicinal), syringols (aromas described as aromatic, phenolic, spicy, smoky, baconlike, sweet, medicinal, creamy, meaty, and vanilla), and phenols (aromas described as aromatic, phenolic, burnt, woody, bacon, savoury, smoky, and medicinal) in the pyrolysate [i.e. burnt peat]. Relatively high proportions of carbohydrate derivatives in the [burnt peat] characterized Tomintoul and Orkney samples."
"In the distillate (new make), the origin of the peat could be clearly identified by analytical methods. By sensory analysis (by "human nose"), the spirits using Tomintoul (Speyside) peat were more medicinal than the spirit using Hobbister (Orkney) peat. The level of peat aroma was low in the St-Fergus spirit (Aberdeenshire) despite a high abundance of aromatic peaty aromas, but the spirit was sweet, spicy and medicinal."
The upshot of the study indicates that the source of peat will have an impact on the flavour of the whisky. It's a conclusion which may reignite the debate over Scotch whisky 'terroir' beyond the simplistic Highlands / Islands / Lowlands trichotomy.
As a footnote, to this subject, it's also been suggested that peat flavours can be derived via the use of water which flows naturally over and/or through uncut peat beds. However, research indicates peat water contains only a few ppm (parts by million) of peat, which while enough to colour the water brown, contributes little or nothing to whisky flavour.
The chemical processes behind maturation of spirits in oak barrels are at least as complex as they are for wine, but even more fundamental to the end result. Phillip Hills comments "[Barrel] maturation is easily the most important part of the [Scotch] whisky production process as regards flavour. A malt whisky acquires more than half of its flavour during maturation; some would say as much as 80 per cent of the final flavour of the spirit comes from the cask."
Historically, a wide variety of casks were purchased for Scotch Whisky production including former Sauternes, Sherry, Madeira, Bordeaux, Port, Moscatel and Burgundy barrels. Nowadays, barrels which have previously contained Sherry or Bourbon are typically used, though Bourbon barrels are now more common: Firstly because they're cheaper, and secondly because x-Bourbon barrels have all of the harsh tannin removed, resulting in a smoother spirit. Glenmorangie's Dr. Bill Lumsden makes an interesting distinction: The first time such barrels are filled with Scotch whisky, they tend to impart toffee, caramel and creme brulee characteristics, whereas second fill casks are where floral and citrus flavours emerge. He also insists that by the time the second fill is matured, the barrel is no longer suitable for whisky production. By changing the ratio of first to second fill wood, a range of flavour profiles can be achieved. There are other variables: Low char new oak contributes 'sizzling' warmth & European oloroso sherry oak casks contribute buttery/vanilla notes. For some time now, Glenmorangie have been pioneering new research into the why and how of spirit maturation with huge dollars devoted to research and development to find the right wood source for casks. Other distilleries are now waking up to this and are becoming more conscientious about oak selection.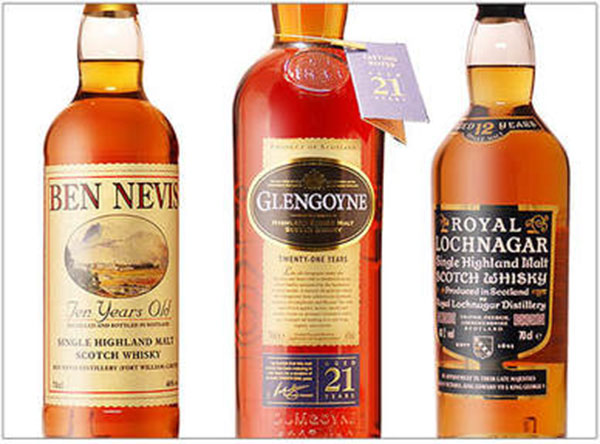 The optimum period for the barrel maturation of spirits is to some extent a matter of taste and type, however, for Scotch whiskies, the consensus seems to be around 12 to 18 years. At greater ages many whiskies (and other spirits) fall out of balance and become unpleasantly woody, yet others can go on to reach fifty years or more and remain undiminished. Because some whiskies mature faster than others depending upon a host of variables, it is only sensible that distillers and blenders concern themselves more with balance and maturity than age for the sake of age.
The Pot Still process by which Malt Whisky is made may be divided into four main stages: Malting, Mashing, Fermentation and Distillation.
Malting Harvested barley is first screened to remove any foreign matter and then soaked for two or three days in tanks of water known as steeps. It's then spread out on a concrete floor known as the malting floor and allowed to germinate. Germination may take from 8 to 12 days depending on the season of the year, the quality of the barley used and other factors. During germination, barley secretes the enzyme diastase which makes the starch in the barley soluble, thus preparing it for conversion into sugar. Throughout this period the barley must be turned at regular intervals to control the temperature and rate of germination.
At the appropriate moment germination is stopped, otherwise the seed would continue to grow until all the sugars where consumed. This is achieved by drying the malted barley or green malt in a malt kiln. More usually nowadays malting is carried out in Saladin boxes or in drum maltings, in both of which the process is controlled mechanically. Instead of germinating on the distillery floor, the grain is contained in large rectangular boxes (Saladin) or in large cylindrical drums. Temperature is controlled by blowing air at selected temperatures upwards through the germinating grain, which is turned mechanically. A recent development caused by the rapid expansion of the Scotch Whisky industry is for distilleries to obtain their malt from centralised maltings which supply a number of distilleries, thereby enabling the malting process to be carried out more economically. More traditional distilleries will still use a clean coke fire to dry the barley with the peat burnt on top of the coke to give whatever degree of 'smokiness' is desired. When peat is burnt, chemical compounds in it adhere to the malted barley and remain throughout the life of the whisky, diminished only by extended periods of oak maturation.
Mashing Dried malt from the kiln is crunchy and pleasantly sweet. In this state, it's easily ground in a mill with the resulting grist, as it's now called, then mixed with hot water in a large circular vessel called a mash tun, usually made out of cast iron or stainless steel. The soluble starch is thus converted into a sugary liquid known as wort. This is drawn off from the mash tun and the solids remaining are removed for use as cattle food. Importantly, the degree of filtration of the mash can effect the flavour of the whisky, and the presence of some solid material in the wort has been found to be beneficial. 
Fermentation After cooling, the wort is passed into large vessels known as 'washbacks', holding anything from 9,000 to 45,000 litres of liquid where it is fermented by the addition of yeast. The living yeast attacks the sugar in the wort and converts it into crude alcohol. Fermentation takes about 48 hours and produces a liquid known as wash, containing alcohol of low strength (essentially beer), some unfermentable matter and certain by-products of fermentation such as esters, fatty acids and aldehydes amongst many other compounds believed to be significant to a whisky's final flavour. Some distillers consider wooden washbacks to be  superior to stainless steel (and vice versa) though both seem to result in good whisky.
Distillation Malt Whisky is distilled twice in large copper Pot Stills in which the liquid wash is heated to a point at which the alcohol becomes vapour. This rises up the still and is passed into the cooling plant where it is condensed into liquid state. The cooling plant frequently takes the form of a coiled copper tube or worm that is kept in continuously running cold water.
The first distillation takes place in large wash stills, and separates the 99% of the alcohol from the fermented liquid and eliminates the residue of the yeast and unfermentable matter. Now much reduced in volume, the resulting liquid, known as low wines (approx 21% Alc./Vol.), is ready to be passed into another still to be distilled a second time. The first runnings from this second distillation (known as 'foreshots' or 'heads') are not considered potable, and by experience a distiller learns to re-direct these back into the low wines receiver to be distilled again. It is the middle part of the distillation (often referred to as the heart) when the spirit reaches an acceptable standard that it's collected in the spirit receiver. Towards the end of the batch, again, the spirit begins to fall off in strength and quality. Known as the 'tail' or 'aftershots' It is no longer collected as spirit but drawn off and kept, together with the first running, for redistillation with the next low wines. Consequently, pot still distillation is a batch process. (Some distilleries re-heat the middle cut to further exclude all but the purest ethanol from the new middle cut - this is a triple distillation). The 'heart' of the distillation is destined to become whisky, but before extended maturation in oak, this 'new make spirit' is more like a high proof vodka or tequila - crystal clear, usually with subtle fruity, flowery aromas and a sweet, spicy flavour profile. Smelling or tasting fresh whisky distillate serves to illustrate the profound impact that wood maturation has on whisky flavour.
Making Grain Whisky
Ingredients The chemical processes which take place during the manufacture of grain spirit are broadly similar to those which occur when malt whisky is made. Both the raw materials and the equipment are different, however. The mash from which grain whisky is made uses unmalted cereals - usually wheat or maize, it doesn't matter which, so distilleries can buy at the best price - together with a small amount of 'green'malt (barley which has germinated but not been kilned). Usually about 16% of malt is added: it has to be there to convert the starches in the other cereals into sugar, so it can be turned into alcohol by the yeast. 
Mashing and Fermenting The cereals are finely milled then cooked at high temperatures in a pressure cooker. The pressure is provided by the direct injection of steam, and the purpose of the cooking is to soften the husks of the grain and dissolve the starch into solution.The slurry thus created is cooled and transferred to the mash tun, where a measured amount of green malted barley is waiting, and the whole lot is mashed (i.e., converted into a sugar solution), as for malt whisky.
Oils in the maize The wort, and any solids it contains, is drained off after an hour or so, cooled and pumped to a fermentation vessel, where yeast cream is added. Fermentation continues for forty-eight hours, during which time the sugar is converted into alcohol (at between 6% and 7%) and carbon dioxide.The wash for grain whisky does not bubble quite so vigorously, because of the oils in the maize. It is also lower in alcohol.
Blending Whisky
What is Blending?
Over the last few decades, a growing number of distilleries have begun marketing a portion of the whisky they distill for consumption as Single Malt whisky. But by far the greater part of their production remains reserved for the world famous blended Scotch whiskies.
By definition, a blended whisky contains both Single Malt and Grain whisky in varying proportions and ages from different distilleries. For example, a typical blend might contain between 15 and 40 different Single Malt whiskies as well as Grain whiskies. Even the cheapest blended whiskies usually contain at least 5% of Single Malt although more commonly Malt content will range from anywhere between 10% - 40%.
Blending whisky, (which in no sense equates to dilution), is a considerable art acquired only after years of experience. Because every distillery's Single Malt whisky has a character of its own and, just as people of different temperaments are often incompatible, so some whiskies will not happily marry. The Malts and Grain whiskies must therefore be chosen to complement and enhance their respective flavours. 
In the blending process, Grain whiskies can be thought of as the 'neutral canvas' background, while the Single Malts are the colour's in the blender's palate: The world famous Johnnie Walker Black Label Blended Whisky, for example, is made up of of forty malts and grain whiskies.  Island and Islay malts deliver spice, richness and lingering peat. Speyside malts make an important contribution to the depth of taste, bringing smoky malt, fruitiness, apple freshness and rich sherry characters; While at the heart of the blend lies Cardhu 12 Year Old, an outstanding malt from Speyside, which imparts silkiness. 
If the primary aim of the blender is to produce a whisky of a definite and recognisable character, the second challenge is to achieve consistency. That is to say, the blend shouldn't vary from a standard which followers of the brand will have come to expect over the years. In order to achieve this consistency, the blender must firstly decide when the different Single Malt whiskies are ready to be used in the blend. Some will be ready at five years of age, others may require twelve or fifteen years in barrel. Before placing an order, a blender also needs to estimate the volume demand for the blend for some time into the future. 
Once purchased, the malt whiskies are brought from the warehouse where they have been maturing to the blending establishment, where they're mixed together in a blending vat. They're usually returned to cask and left to 'marry' for a period of months to improve flavour before bottling. Some companies prefer to vat their Malts and Grains separately and only bring the two together before bottling. This process of combining Malt with Malt or Grain with Grain is known as 'vatting'. At every stage of the process, the blender's role is to re-evaluate and monitor the quality of every component destined for the blend.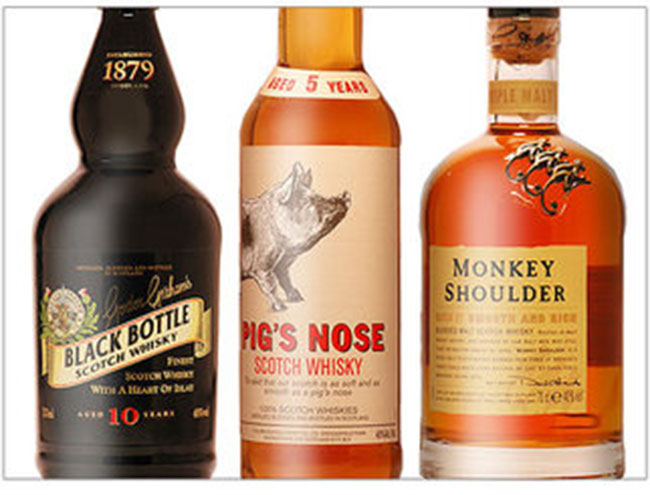 When was blending introduced?
Blending was pioneered by Andrew Usher inEdinburgh in the early 1860's, so it's still a relatively recent practice. It was only after it became common that a taste for Scotch Whisky spread first toEngland and then throughout the world. The reason for its success was that Pot Still Single Malt Whisky was inclined to be too strongly flavoured for everyday drinking, especially by people in sedentary occupations and warm climates. By combining Malt Whisky with Grain Whisky, the demand for a whisky that is milder in flavour and more suited to a broad international customer base was met. The Cutty Sark blend was one of the originators of this new style, specifically created to suit the American palate which prefers a lighter taste. The most notable influence in Cutty Sark is from the inclusion of young Speyside malts. The whisky is clean and fresh on the palate with hints of sweetness and a clean, crisp finish.
What is the percentage of Malt and Grain Whiskies in blended Scotch Whisky?
No brand owner is willing to reveal the proportions of the different whiskies used in their blends. What'smore, there are no fixed rules, rather, the blender determines the proportion according to the character he or she is seeking for the brand as described above. Some brands such as The Famous Grouse have capitalised on the surging popularity of Single Malts by marketing their house blends as containing a considerably higher proportion of Single Malt than others on the market.  
What is a deluxe blended Scotch Whisky?
No formal rules have been laid down as to what constitutes a 'deluxe' Scotch - how old it should be overall or how much malt it should contain. Generally speaking, a deluxe Scotch is a blend which contains a higher proportion of carefully selected older and, therefore, more expensive whiskies. Some blenders see the putting together of a deluxe blend as the supreme expression of their skills. 
What does the age statement mean on a blended Scotch Whisky?
When there is an age statement on a bottle of blended whisky, it does not refer to the average age of the whiskies in that blend. Rather, the law requires that when the age is declared on a label, it must refer to the youngest whisky in the blend. For example, if a blend is described as an eight year old, the youngest whisky in that blend must have been matured for at least eight years even though there might be a significant amount of much older material in the bottle.
Famous Blended Scotch Brands
Although demand for Single Malt Scotch continues to increase, most of the Scotch Whisky sold in the world is still Blended Scotch. Some of the most famous of these are:
Bell's Scotch Whisky - Blair Athol Distillery in Pitlochry is spiritual home to Bell's Scotch Whisky, having been acquired by Arthur Bell in 1933.
Cutty Sark Scotch Whisky - This famous Berry Brothers & Rudd Limited brand is said to have Glenrothes Single malt whisky at its heart.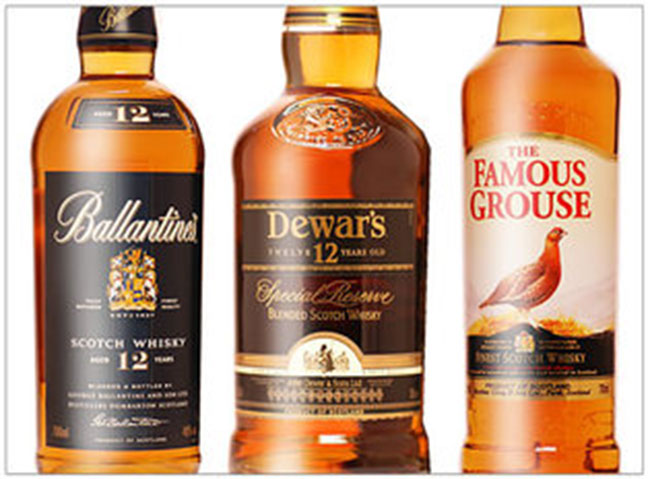 Chivas Regal Scotch Whisky - Strathisla Distillery is recognised as the foundation to the famous Chivas Regal Blend. Key Chivas regal Scotch Whisky expressions include:
Chivas Regal 12 years old
Chivas Regal 18 years old 
Dewar's Scotch Whisky - The United states leading Scotch Whisky blend. Key Dewar's Scotch Whisky expressions are:
Dewar's White Label
Dewar's 12 Year Old
Dewar's Signature
The Famous Grouse Scotch Whisky - Key Famous Grouse Scotch Whisky expressions:
The Famous Grouse
The Famous Grouse 12 years old
The Famous Grouse 18 years old
Johnnie Walker Scotch whisky - Famed for its striding man logo. Key Johnnie Walker Scotch Whisky expressions:
Johnnie Walker Red Label
Johnnie Walker Black Label
Johnnie Walker Green Label
Johnnie Walker Blue Label
A Note on Whisky Liqueurs
Some blenders used to describe their products as 'liqueur whisky', intending to convey a sense of sophistication and giving a 'digestif' quality to the product. This term now has no real meaning and is falling out of use. 'Whisky Liqueur' has an altogether different meaning. Deriving from the French liquor,the word now refers to a flavoured spirit, usually sweet, which can be based on any grain alcohol, though we only look at liqueurs which are based on whisky. The flavouring agent in the drink, which can be herbs, flowers, fruit, seeds or roots, is introduced to the spirit base by re-distillation, infusion or maceration. By implication, a liqueur is of high quality, to be savoured rather than hastily gulped. Scotland, Ireland and The United States all produce whisky-based liqueurs, a number of which are internationally known by their names and the romantic stories attached to their creation. 
Famous Whisky Liqueurs:
Drambuie Liqueur 
Glayva Liqueur  
Lochan-Ora
Glenfiddich Malt Whisky Liqueur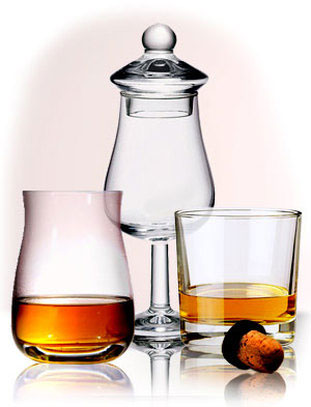 An Approach to Whisky Appreciation
During the interaction between ourselves and whisky, the impression we form  involves a synthesis of information from at least four different senses: Smell, taste, touch (or mouth-feel) and sight.
However, by dividing the activity of whisky tasting and focusing on its component parts, it is easy to forget that sensations from these parts must at some stage become unified then 're-presented', and it is the brain which provides us with the final, unified tasting experience. Therefore, perception, persuasion, education and past experience also contribute to our overall impression of whisky. This doesn't mean that tasting is a completely subjective enterprise. On the contrary, one of the joys of whisky is our sharing of experience through a common culture of appreciation that enables a degree of calibration of perceptual representations to occur. In particular, we develop a language for sensory terms. With a little practice one can soon learn to break flavours down and identify constituent parts. Some of the most common and easily identifiable whisky aromas and flavours are outlined below, along side a more comprehensive list in the form of a Whisky Flavour Wheel, as developed by the Scotch Whisky Research Institute.
Tasting Whisky
Whisky tasting is done principally with the nose - a far more acute organ than the tongue. Aromatic volatiles are detected by a small fleshy bulb called the olfactory epithelium, located at the back of our noses which has a direct link to the brain. While there are at least five primary tastes, there are many more primary smells and probably infinite combinations. Both smell and taste interrelate when the sample is in the mouth to create a 'flavour' profile, via the transformation of chemical and tactile information into electrical signals to the brain. The tongue and mouth also detect what are sometimes termed 'mouthfeel flavours' - not flavours actually, rather they refer to the temperature, viscosity and texture of the fluid we are swallowing - as well as that essential dimension in spirit evaluation, 'oral pain', which can also be picked up by the nose. In whisky tasting, this is usually experienced as pungency, prickle or heat, particularly in very strong spirit, which may sting your nose and tongue and induce temporary anaesthesia. One has to be careful when nosing whiskies that have been bottled at natural cask strength (i.e. undiluted prior to bottling). Sniffing a glass of water on the side can help to refresh the nose.
When pouring your whisky, firstly make sure your glassware is clean and free of any detergent smells. Measure about 30ml or a generous finger's breadth. Hold the glass to the light, or against a white napkin, and observe the whisky's colour, depth and clarity. New spirit is water-like while twenty years in a cask that's previously held sherry may turn the whisky the colour of treacle. Between these poles is a spectrum of hues. Since the colour comes from the wood, a whisky's appearance should be a guide to how it has been matured, and for how long.
​Or should it?  In fact, distillers are allowed to add small amounts of colouring (in the form of caramel) in order to ensure that each batch looks the same as the next. (Most claim this is tasteless but it's actually quite bitter, and whisky writers like Jim Murray have long been crusading against it). To further complicate the matter, unless you're drinking whisky which has been drawn from a single cask, a number of different casks (from three to three hundred) containing whiskies of varying colour will have been vatted together.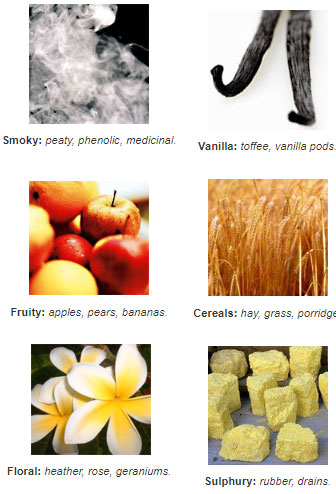 So while a whisky's colour may be a very general indicator of age, unlike wine, its colour or appearance has little bearing on whisky quality. Even visual faults that would be negatives in wine evaluation can actually be positives in whisky. For example, many whiskies are 'chill-filtered' prior to bottling, whereby the spirit's temperature is reduced close to freezing, in which state a number of 'impurities' can be filtered out. The main reason for this is that these 'impurities' cause the whisky to go very slightly cloudy when water (and especially ice) is added. Unfortunately, the 'impurities' are also flavour elements, and would sometimes be better left in. A very coarse filtration may leave 'unattractive' particulate matter in the bottle or make the whisky appear slightly opaque, but enhance a whisky's overall flavour. It should be noted that filteringper seis not always a bad thing. It can be a distiller's last opportunity to ameliorate a slightly imperfect distillate before bottling.
Many professional noses don't taste at all. They get all the information they need from sniffing. To maximise the aroma, briefly cover the top of the glass with one hand then sniff it. Warming the glass with the palm of your hands can also help release aroma molecules. Different whiskies cause slightly different physical effects, especially when they are at cask strength: experts refer to sensations such as 'nose prickle', or 'nose drying', or even 'nose burn'. The cardinal, characteristic aromas of the particular whisky will be present - you should note them down, if you can identify them - but they may well be subdued, spirity and vapourous.
In tasting room conditions, professional tasters typically reduce the spirit to around 20% alcohol by adding still water (the purer the water the better). Be very careful, however, with very old (over 20 years, say) or very sherried whiskies. They can be 'damaged' by too much water; the aromas 'break up' and the flavour becomes flat. In ordinary circumstances such whiskies are likely to be drunk as digestifs, and often, like fine Cognac, no water is added: in effect, your saliva acts as the dilutant. Peaty and very spirity whiskies can take a lot more water. The answer is to experiment: add a little water - take a couple of deep sniffs of fresh air, then plunge in again until you feel the whisky is giving its best aromatically.
Take further notes - as whacky as you like: it can be very difficult to put words to smells, but great fun when you let go. You'll find that when you come up with an accurate descriptor, the rest of the company will respond immediately and enthusiastically! Rest from time to time: with continued sniffing, the intensity of the aromas you perceive will fade quickly - so it's pointless to nose a single sample for too long.
When tasting whisky, take a large enough sip to fill your mouth, then roll it over your tongue - even 'chew' it. First you want to register the 'texture' of the whisky. It may be smooth and silky and viscous, spirity or astringent and dry. Then you want to identify the primary tastes - the immediate flavours your tongue collects - sweet, salty, sour, bitter or umami. Most whiskies will present a mixture of one or more of these flavours, sometimes beautifully balanced, sometimes less so. What other flavours can you detect? Are they consistent with the whisky's aroma, or have new elements appeared?  As with wine, you can sometimes encounter whiskies which have a wonderful nose, but a rather insipid palate - or vice versa. Note your impressions. Over the course of tasting, you might also notice that the flavours change for better or worse - and sometimes quite dramatically. A truly great whisky, like a great wine can seem to be endlessly complex. Aromas and flavours dazzle the senses defying simplistic descriptions. Once swallowed or spat out, the length of aftertaste is another defining characteristic of a great whisky. Is there any after-taste at all, is it pleasant or unpleasant? Does the flavour linger in your mouth like a northern sunset, or does it fade rapidly like a shooting star? Are there any echoes of former tastes or aromas? If you are being really analytical you could measure the intensity of these sensations on a numerical scale.
It's usually difficult to appreciate more than a half dozen whiskies in one session before nose and palate fatigue set in. Remember to take your time and keep plenty of water on hand to refresh your senses.
OTHER TIPS...
Cask Strength Bottlings: Pros & Cons
Cask Strength Single Malts are a blend of whiskies of the same age, from the same distillery, bottled undiluted at the whisky's natural strength.  As Whisky matures the proof reduces from around 70% Alc./Vol. following distillation to 50-60% after 15 years of maturation in barrel. This is because alcohol evaporates at a lower temperature than water.
Pros: Cask strength whiskies give you the option of tasting whisky at it's natural strength, arguably a more 'authentic' experience, or diluting to your preferred strength. They're also generally bottled with minimal filtration, which can add an extra intensity of flavour. Depending on the alcohol content and price, Cask Strengths can represent great value for money when compared to bottlings diluted to 40%.
Cons: With the extra 'intensity' of flavour, one must take the good with the bad.The extreme alcohol can anaesthetise the mouth, resulting in a less pleasurable experience. These bottlings can also be excessively pricey, usually due to the high tax/alcohol ratio.
Single Cask Bottlings
Single Cask Single Malt is malt whisky taken from just one individual cask, the product of just one distillation run from just one distillery. It's also usually sold at cask strength. The information on the label is typically extended to include the cask number, date of distillation, date of bottling and even the number of bottles produced from that cask.  A very coarse filtration before bottling ensures the flavour is not compromised. When evaluating a Single Cask Whisky it's important to remember that almost everything that turns a whisky into the drink we recognise as whisky happens in the barrel. Every barrel is slightly different in the same way that no two trees are the same! As such, growth rings are different, porosity is different, therefore not even whisky from two barrels filled on the same day from the same still and stored side by side will taste the same.
Some of the most exciting and memorable whisky experiences to be had are from Single Cask Whiskies. They offer a unique and never to be repeated glimpse into Scotch whisky in its most elemental state. Independent Single Cask bottlings from companies like Cadenheads, Adelphi and Mackillop's Choice are all available online.